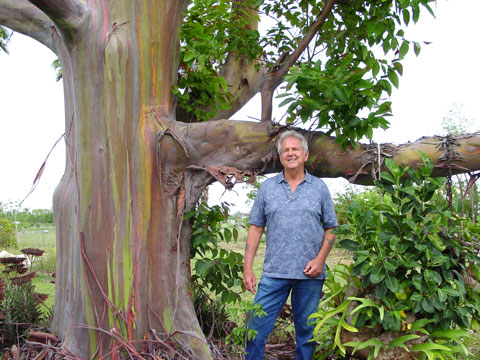 Charlie's Rainbow
How We Started
Oftentimes we get steered in a certain direction by good friends, and this is the case with us and Rainbows. One of our best friends (who has since passed on) wanted a Rainbow Eucalyptus for his yard, so being in the nursery business, we tried to find one for him. When, at long last, we found them, we were stunned by the beauty of the mature trees. The picture above shows you what we saw, although when we saw this exact tree, it was around 11 years ago. Charlie (the man in the picture) is still around and still grows a few Rainbows himself. We had never seen anything like these trees, so we decided to get some from Charlie for ourselves as well. Ultimately, we got three trees; they were kind of yellowed at the time and were about 18" tall, in 3 gallon pots.
We have been told by Charlie that this huge Rainbow started small at the USDA experiment station over 29 years ago, and when they were done with their work concerning the Rainbow, Charlie was able to obtain this little tree and plant it for himself. He had a machine come in with a 52" auger and drilled a seven foot deep hole for the Rainbow to grow in. That seems to explain why no hurricane, not even Andrew, has been able to uproot this tree.
After a number of years, our trees were large enough to bloom, and we wondered if we could grow some more for ourselves from seed. This proved to be a real challenge because growing Rainbows from seed turns out to be no easy task. Fortunately for me (LariAnn), I have a Master's degree is Plant Physiology and I put that knowledge to work in figuring out how to get little plantlets to survive from germinating Rainbow seeds. It took some doing, but we figured it out and now we can supply quality Rainbows to others who are as impressed with these trees as we were the first time we saw them.
Our hope is that you will enjoy yours as much (or more) than we enjoy ours. They are like living works of art, always changing and always beautiful.
Our best to you, LariAnn and Delia