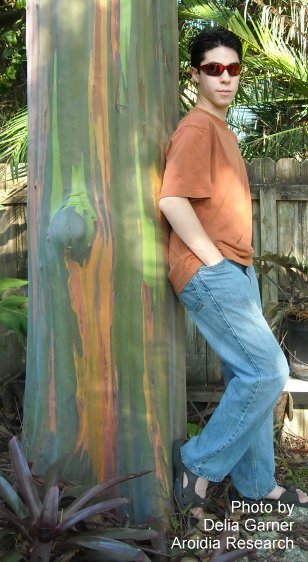 Mindanao Gum - Introduction
The Rainbow Eucalyptus is our specialty, and we are delighted to present them to you via this website. Our aim is to help people learn about this beautiful tree, to enable people to develop appreciation for it, and to encourage people to grow the tree in their yards and communities.
Eucalyptus deglupta (Rainbow Eucalyptus) hails from the rainforests of Mindanao, which is the southernmost and easternmost island in the Philippine island group. This means that the tree is a humid tropical grower and as such can be grown outdoors only in south and coastal central Florida. Some people have grown this tree successfully in southern Texas and southern California, but extra care and diligence is required. All other locations may result in winter death of the tree outdoors. This tree has been reported to withstand light frosts but cannot survive a hard freeze.
Also take note that the Rainbow Eucalyptus does not produce the aromatic oils that other Eucalypts are well known for. Buyer be aware - if a vendor tells you that their "Rainbow" can survive freezing temperatures as are typical of a hard freeze, and the leaves of their tree, when crushed, smell like eucalyptus or Vapo-Rub, what they are selling cannot be a true Eucalyptus deglupta tree.
Seedlings
Containers
Trees
Buying Trees
2020 Events and News!
If you want to purchase a Rainbow, email us at AROIDIAN@att.net or please call us at (305)245-4333 (land) or (305)878-7098 (cell). Demand is very high for Rainbows in Spring, so if you want one at that time, and have not reserved one yet, I recommend you contact us quickly to reserve one for pickup or shipping before they are all sold!
Rainbows grown by our customers
Some of our customers have been kind enough to send us pictures of Rainbows they have purchased from us and grown on. We're now posting some of these pictures, with permission, so you can see how nice these trees look. Click Customer Rainbows to see the photos. If you've bought a Rainbow from us and wish to have your tree shown here, email us a picture with your consent and we'll post it!
Rainbow Videos
For your viewing enjoyment, here are our two Rainbow Eucalyptus informational videos on YouTube!
Presentation by LariAnn
Presentation by Delia
We recommend you have DSL or broadband to view these videos. If you still have dialup service or a slow stream rate, video loading may take time.
In September 2006, we had an article, entitled "Under the Rainbow", appear in the magazine, Ornamental Outlook! If you missed it, you can download it here in PDF format to your own computer by clicking Rainbow Article!

We support diversity and believe that the Rainbow Eucalyptus tree can be a great symbol of diversity because of the varied and changing colors of the bark. The Rainbow Flag is a recognized symbol of diversity, so we include it here to show our support.
Feel free to browse and enjoy this site. If you wish to buy some of these trees, please see the Purchasing Page.
Updates
SPECIAL NOTICE: We ship Rainbows only to valid shipping addresses in the continential United States. Please do not contact us about shipping to any other locations, including US territories that are not part of the continental United States.
Current Retail Availability
At this time you must check with us to see if we have any Rainbows, as demand is extremely high. We welcome visits in person to pick up trees but you do have to schedule an appointment so we can be sure to be here to help you. Normally, we have shipping sized Rainbows available at 3 to 4 feet tall and that retail for $60 each plus packing and shipping to your destination. Occasionally, we have much larger trees (10 to 15 feet tall) that are available to local buyers only as they are too large to ship. Our trees are the healthiest and highest quality on the market today as a result of growing them in our own custom growing medium and in Superoots Air-Pots.
Why buy from us?
If you found us via an internet search, you might have also found one or more other sources for these trees. From time to time, other nurseries may try stocking Rainbows to enliven their inventory. However, most nurseries are production facilities where their main talent is producing hundreds of different kind of plants in pots. They do not have the time to involve themselves with educating customers about each plant that they sell. In most cases, they do not even have experience in growing their plants to full maturity in the landscape environment. This is one reason why a few folks have tried selling much smaller trees than we do. We do not sell smaller Rainbows because it is too easy to lose them when they are small. We really want you to succeed and to be able to enjoy your Rainbow for years to come. One thing we've learned is how large a tree needs to be to have a high likelihood of surviving.
Other sources expect you to rely on just what they've published on their websites, and even then, they don't provide enough information about the needs of Rainbows. We provide complete planting and care instructions, and are a call or an email away if you have any questions about your tree. Our knowledge comes from first-hand experience in growing these trees in the ground and in containers, and Rainbows are our specialty.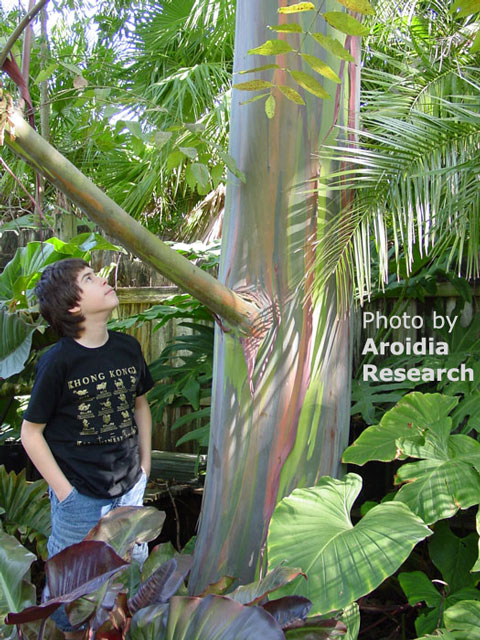 Our Trees
All of the pictured examples found here are plants and/or trees actually grown by us. Our production site is not open to the public, so we regret that we cannot cater to walk-in sales. However, we do arrange for pickup at our site on appointment. We have shipped trees as far as California successfully. Prospective buyers should see the Purchasing Page for more information.
Who Benefits?
We pride ourselves on producing our trees using the most environmentally-friendly and technologically advanced methods. Our present and future crops are grown in specialized containers called Air-Pots that eliminate root circling and produce a radial root system uniquely ready for planting in the ground. For more information about these state-of-the-art root enhancement containers, see our Air-Pot retail site. In addition, all our tree root systems are inoculated with ectomycorrhizal fungus in order to maximize the nutrient uptake of the roots. Finally, all our trees are hand-watered and hand-fertilized, enabling us to be totally responsive to the state of our trees at all times. The trees benefit from the extra considerations we give them. You benefit because you get the very best Rainbow Eucalyptus available today.
The funds obtained from the sale of these trees are the primary source of financial support for the research work being carried out at Aroidia Research.